COVID-19 VACCINATION IN LAVAL
Vaccination for the entire population
Vaccination schedule by age group for the fall campaign
Note: Interval to receive the 2nd booster dose : 3 months minimum, 5 months recommended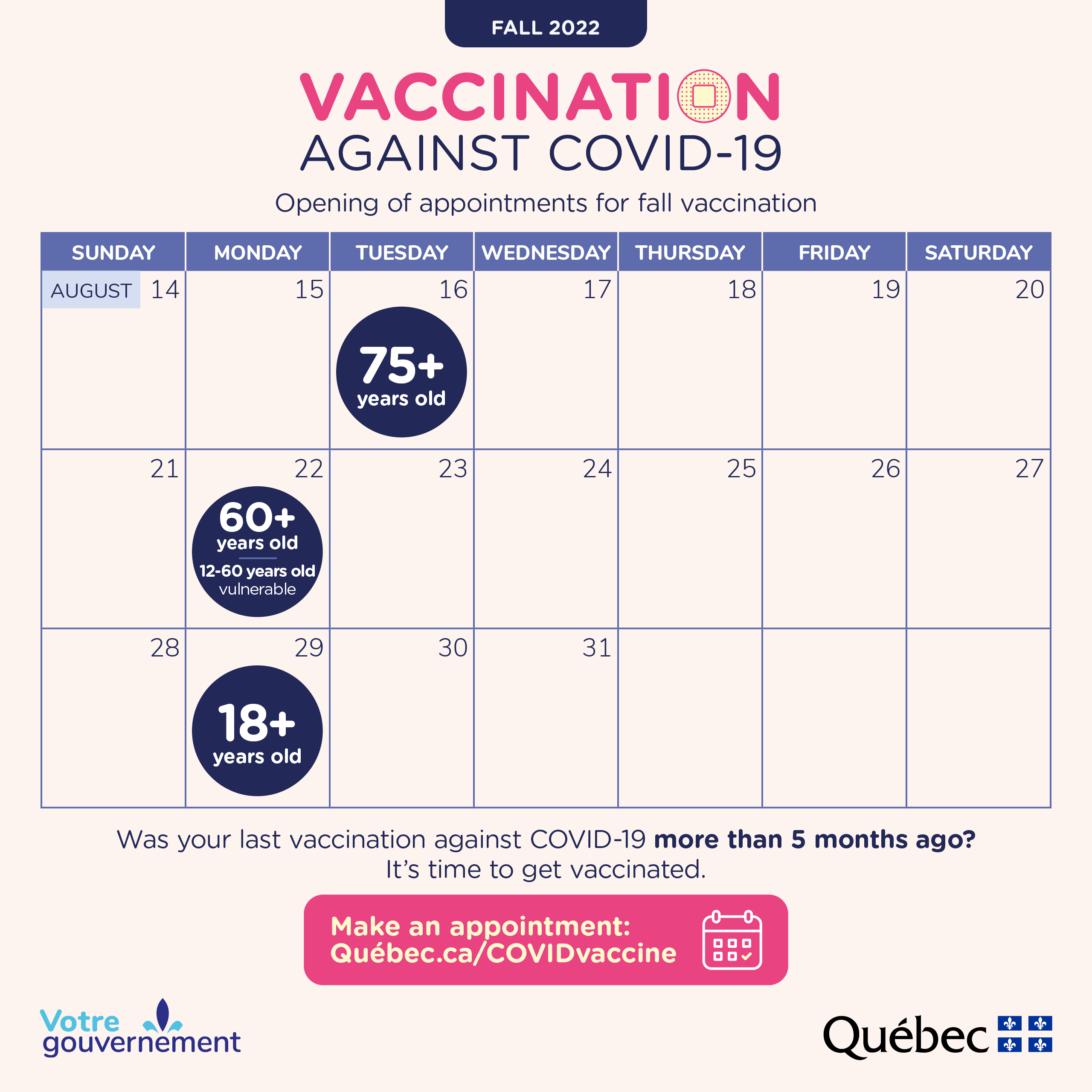 Vaccination is available by appointment only in Laval.
Make an appointment:
Online on the platform Clic Santé
* In the event of a problem with Clic Santé, contact 1 877 644-4545 (Monday to Friday from 8 a.m. to 6 p.m.)
Consult the vaccination schedule below.
Vaccination clinic schedule - By appointment only
* Open every day except public holidays.

THE VACCINATION OFFER IS AS FOLLOWS:
6 months to 4 years old : Spikevax of Moderna (Pédiatrique)

5 to 11 years: Pfizer (Pediatric)
12 to 17 years old: Pfizer
1st dose and 2nd dose
1st booster dose - Recommended dose for young people at higher risk of complications from COVID-19 and young people living in closed congregate settings. Can also be offered to all young people who wish and who have no contraindications.
18 and over: Pfizer, Moderna or

Novavax
1st and 2nd doses
1st and 2nd booster dose
Uptaded: August 16, 2022
Nuvaxovid vaccine (Novavax)
It's now possible to receive the COVID-19 vaccine Nuvaxovid (Novavax). It is an inactivated recombinant protein vaccine with adjuvant. The same eligibility criteria as for other vaccines apply.
Vaccination without appointment only at the SMARTCENTRES LAVAL EST clinic (5080, boulevard Robert-Bourassa, Laval)
Specific schedule :
Saturday: 8:30 a.m. to 2 p.m.
Booster dose of COVID-19 vaccine
The recommended interval between the primary vaccine series and the first booster dose is 3 months or more. The recommended interval between each booster dose is 5 months or more.
For more information, visit the

Government of Quebec website.
Need transport and support?
Do you or your loved one have reduced mobility and need transport and support to get to a Laval vaccination center?
Resources are available to help you, please contact the organization serving your area or 211 for more information.
District
Organization
Phone
Senior citizen (services in several languages)
211 Grand Montréal
211
English-speaking senior
AGAPE
450 686-4333
Saint-François / Saint-Vincent-de-Paul / Duvernay
Bonjour Aujourd'hui et Après
450 661-6716
Saint-François / Saint-Vincent-de-Paul / Duvernay
APARL
450-661-5252
Pont-Viau / Laval-des-Rapides
Centre d'entraide du Marigot
450 668-5375
Pont-Viau / Laval-des-Rapides

Centre Communautaire

Le Rendez-Vous des Aîné(e)s

450 667-8836
Chomedey
SCAMA
450 681-4240
Sainte-Dorothée / Laval-Ouest
Groupe d'entraide La Rosée
450 962-9971
Fabreville / Sainte-Rose
CATAL
450 662-1228
Vimont / Auteuil
SBEVA
450 662-1341
Useful links
On December 18, 2020,Olivier Haeck, MD, Infection prevention Officer and Laboratory biosafety Officer at the department of specialized medicine of the CISSS de Laval, took a few minutes to answer all our questions about the COVID-19 vaccination. (In French only)
Here is various information relating to the progress of the vaccination campaign against COVID-19: