Coronavirus | COVID-19
Information for the population
If you are worried about COVID-19 or have symptoms like cough or fever, difficulty breathing, or sudden loss of smell and taste without nasal congestion, contact the toll-free numbers below or present yourself in a walk-in screening clinic in Laval.
Toll free, 1 877 644-4545 anywhere in Quebec
For the hearing impaired (TTY): 1 800 361-9596
COVID ‑ 19: Medical consultation in times of pandemic
Whatever your health need, if you have flu-like, gastroenteritis or COVID-19-like symptoms, call 514 644-4545 or 1 877 644-4545 (toll free), to be referred to the right resource. If you do not have such symptoms and have a health problem, you can consult despite the pandemic. Wearing a face mask is mandatory during a consultation. For more information, see the page

Besoin de consulter en contexte de pandémie (COVID‑19)and our section on the care and services offered at the CISSS de Laval in the context of a pandemic.
Information for residents of retirement homes (RPA) and their caregivers
A phone line dedicated exclusively to residents of residences for the elderly (RPA) and their family caregivers who have questions is in place.
Residents and their relatives wondering about the directives and recommendations are invited to leave a voice message with their name and phone number at
450 668-1804, ext. 47522
Voicemail messages will be picked up each day and a call back will be made by a worker within 24 hours to answer all questions.
Mesures in force in Laval
At home
(houses and cottages)

Prohibited:

visitors from another address

Allowed:

a single visitor from another address for single individuals
informal caregivers
individuals offering services or support
labour for planned work

CHSLD, RPA private seniors' residence and RI

Visits for humanitarian purposes

Visits by informal caregivers (one person at a time and a maximum of two people per day in CHSLDs)

Private gatherings

Prohibited

Activities organized in a public place

Prohibited, except for places of worship and funerals
(maximum of 25 people and a register must be kept)

Demonstrations are still permitted, but wearing a mask or face covering is mandatory at all times

Inter-regional travel

Not recommended toward a green, yellow or orange zone and outside Québec
(except for essential travel, workers, shared custody, freight transportation)

Public venue halls and audiences in indoor public places

Auditoriums, cinemas, theatres and museums are closed

Libraries other than those in educational institutions are closed, except lending desks

Restaurants

Dining rooms are closed

Delivery, takeout and drive-through orders only

Bars, brasseries, taverns, casinos

Closed

Microbreweries and distilleries, closed only for their services for consumption of food or beverages on the premises

Businesses, stores and boutiques

Open

Private professional and health services

Open only for services that require an individual's presence

Personal and beauty care services

Services maintained

Saunas and spas are closed, except personal care provided therein

Community organizations

Services maintained
Last update: September 29, 2020
Health instructions and recommendations
Instructions for all
Anyone who has frequented any public place must monitor their symptoms and follow the health instructions of the Ministry of Health and Social Services. Consult and download the health instructions in several languages ​​on the website of the ministère de l'Immigration, de la Francisation et de l'Intégration (MIFI)
Isolation instructions
Be aware that these isolation guidelines may apply depending on different situations. At all times, it is essential to respect these.
Wearing a face mask in public transport and in public places
Wearing a face mask covering the nose and mouth is compulsory in public transport and in public places that are closed or partially covered for people aged 10 and over.
For a list of places where the wearing of a mask or face covering is mandatory or for information on how to make and use a face covering, consult the page

Port du couvre‑visage dans les lieux publics en contexte de la pandémie de COVID‑19.
IMPORTANT: The face mask does not replace:
Hand washing;
Physical distancing (2 meters);
Isolation at home if you are sick.
Travel instructions in the context of COVID-19
Those returning from a trip outside the country, including cruise passengers, are required to self-isolate for a period of 14 days. You must also postpone any non-urgent medical appointment.

Pour en savoir plus.
The care and services of the CISSS of Laval
Instructions for visitors
LIMITATION OF VISITS TO PATIENTS
HÔTEL (Non-traditional site)
As part of the passage to the red alert level in Laval and in order to protect vulnerable people and staff, the establishment is temporarily limiting visits to hospital centers.
---
VISITS MODALITIES
• For adult customers:
Hospitalization and emergency units
Visits to adult users are prohibited, except for humanitarian reasons such as: a user in palliative care or when a caregiver is authorized.
Outpatient clinics, examinations and treatments
No accompanying person is allowed.
Authorized caregivers are defined as follows:
Anyone who, continuously or occasionally, provides support to a member of their entourage who has a temporary or permanent disability and with whom they share an emotional bond, whether family or not. The support is offered on a non-professional basis, in an informal setting and regardless of the age, living environment or the nature of the disability of the member of the entourage, whether physical, psychological, psychosocial or other. It can take many forms, for example, helping with personal care, emotional support, or organizing care.
Meaningful help and support can be offered by more than one caregiver to the same person in HC. However, we restrict to a maximum of one caregiver per day for visits. More flexibility could be made for very vulnerable clients, such as geriatric clients or those with disabilities.
One person at a time will be admitted to the user, unless the patient is in an imminent end of life situation. A user in a hospital center can only identify a maximum of two people who can take turns from day to day since only one caregiver per day is authorized.
---
• For youth and mother / child customers:
Pediatrics, neonatology and pediatric outpatient clinics
Only one parent (both parents for neonatal care) is authorized to accompany their child. No siblings (brother or sister) are admitted.
Birthing unit (delivery)
Only the spouse or a significant person are admitted.
---
PPE coaches
We remind you that personal protective equipment (PPE) coaches are available at the Cité-de-la-Santé Hospital from 8 a.m. to 8 p.m. Monday to Friday and from 8 a.m. to 4 p.m. on weekends. .
You can call them during these hours at 514 616 7649 so that they can help you with the certification on the wearing and removal of personal protective equipment and hand hygiene for family caregivers depending on their availability.
---
VISIT CONDITIONS
Anyone authorized according to the above procedures must answer "no" to the following three questions:
1. Have you been diagnosed with COVID-19 for less than 14 days, or are you under investigation for a COVID-19 test?
2. Do you have symptoms such as fever OR cough OR difficulty in breathing OR loss of smell OR taste?
3. In the past 14 days, have you had contact with someone who contracted COVID-19?
Last updated: October 1, 2020
SERVICES TO THE POPULATION: SUSPENSION AND MODIFICATION OF SCHEDULES
As a preventive measure in the face of the pandemic, certain services are temporarily suspended.

Consult the departments concerned
CAREGIVERS
Caregivers can visit users in CHSLDs, seniors' residences, intermediate resources, family-type resources, at the Cité-de-la-Santé Hospital, at the Jewish Rehabilitation Hospital and in non-traditional sites (SNT).
MEASURES FOR DELIVERY DURING THE PANDEMIC
Please consult the

exceptional measures put in place to protect patients and staff while preserving as much as possible this unique moment of birth.
TEST CENTRES
Please see the test centres section for instructions.
Resources
ANSWERS TO QUESTIONS ABOUT CORONAVIRUS (COVID-19)
COVID-19 in multiple languages
Decision support (multilingual)
Infographics in multiple languages
We stay at home and we save lives! Compliance with the public health instructions of the Government of Quebec is essential and saves lives.

Discover the infographics to download in 14 languages!
Information tool for parents in the context of a pandemic
Coronavirus (COVID-19) et allaitement
Chez les femmes enceintes et les enfants 0-17 ans
Information tool for people with cancer

Consultez cette vidéo pour en savoir plus sur la COVID-19 pour les personnes atteintes d'un cancer. La capsule est produite par le Réseau de cancérologie Rossy
USEFUL LINKS
All the information on COVID-19 in Quebec : Quebec.ca/coronavirus
Information for young people and their parents
If you're having a party or thinking about going to a party, here are some tips to follow, especially if you plan to use alcohol, tobacco, cannabis or other substances.

Télécharge nos conseils - Un party au temps de la COVID19? Tu peux gérer ça!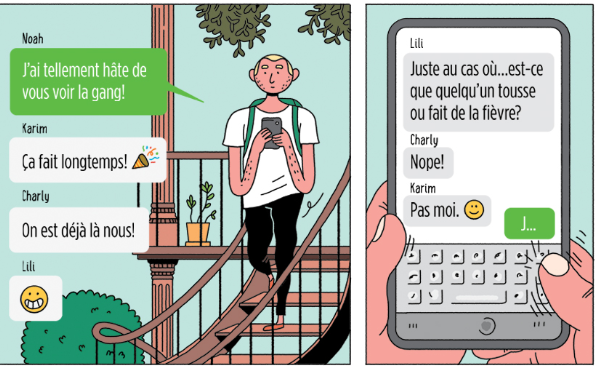 Follow a group of friends who wonder about the new reality that is transforming their social activities in times of COVID-19. Being able to live your life, yes, but adapting by being as safe as possible in times of a pandemic: it is sometimes a little complicated but not impossible!
Download the complete comics!
Production de la Direction régionale de santé publique du CIUSSS du Centre-Sud-de-l'île-de-Montréal, 2020
Crédit illustration :

Guillaume Perreault